A case of fraud linked to cryptocurrency has been reported in the national capital, with a group of investors being duped of up to Rs 500 crore after being assured of massive 200 percent returns on their investment within a year, a report said on December 29.
Delhi Police have unearthed a cryptocurrency scam worth Rs 500 crore. The police are reportedly on the lookout for a group of cybercriminals accused of defrauding scores of people by promising them 200 per cent returns on their investments.
A Times of India report claimed the criminals may have fled the country. The accused hosted meetings with potential victims at posh hotels and took them on Goa vacations as bait.
In Goa, the accused would organise large events to acquaint them with blockchain technology and how they could earn big profits. Large investors were reportedly promised Dubai vacations and guaranteed profits.
"They also claimed to be building a swanky office, but when a few investors visited Dubai to check the authenticity, they were allegedly shown random under-construction buildings. The accused also claimed to be running a cooperative society bank in Maharashtra, which turned out to be false," TOI quoted the FIR as saying.
Water Resource Ministry's Twitter Account Hacked
According to a cybersecurity expert, the Twitter account of the Ministry of Jal Shakti was briefly hacked on Wednesday morning. Hackers reportedly posted bogus promotional giveaway adverts for Tesla vehicles and cryptocurrencies like Bitcoin and Ethereum.
Commenting on the attack, Satnam Narang, senior engineer at the US-based cybersecurity firm Tenable, said the attackers used multiple bot accounts to repost and like the post.
"The website linked in the Ministry of Jal Shakti's tweet leads to a standard cryptocurrency scam page mimicking the @Medium layout with links to separate giveaway pages for Bitcoin ($BTC) and Ethereum ($ETH)," Narang said in a tweet.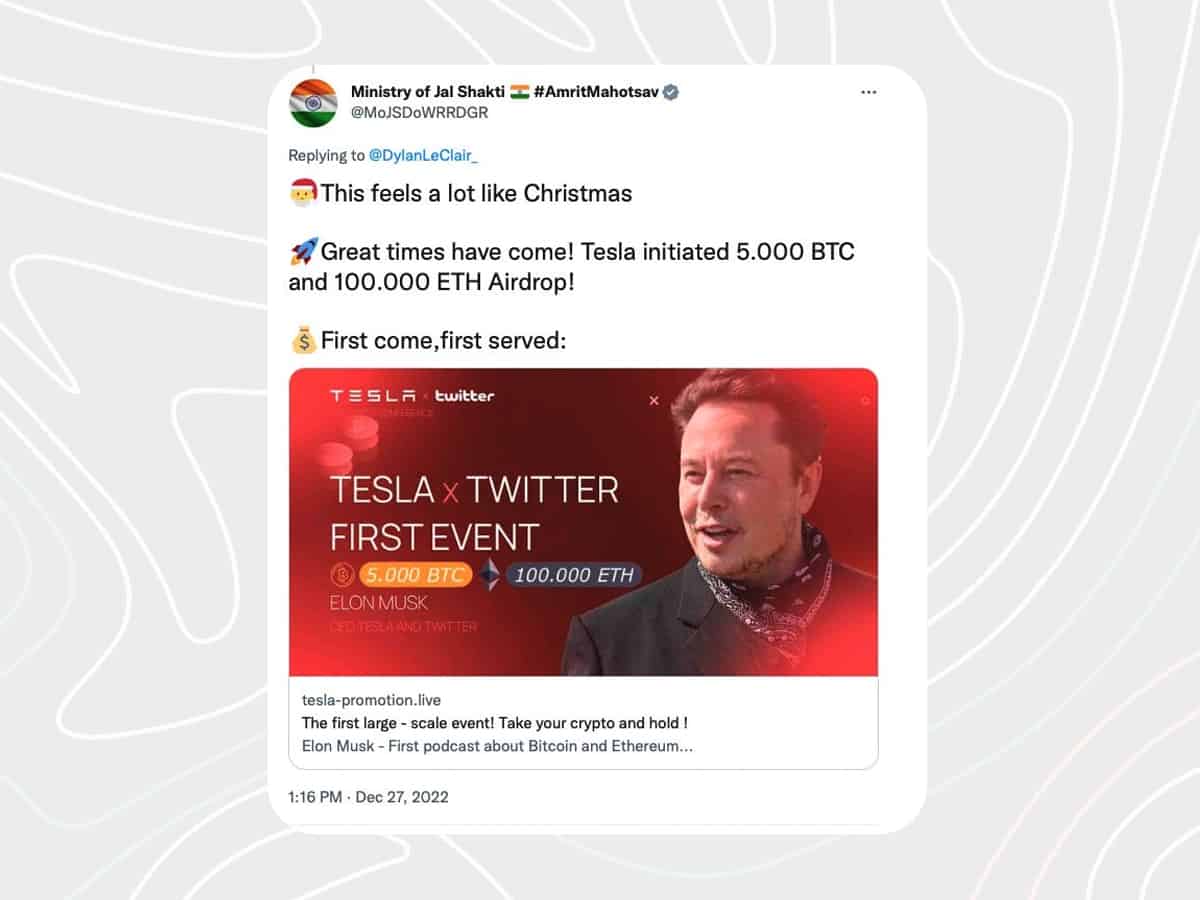 Twitter account for the Ministry of Jal Shakti, an Indian gov't agency, has been compromised and is being used to promote a fake TESLA x TWITTER cryptocurrency giveaway for $BTC and $ETH.
Quick thread 🧵

cc: @firstpost @indiatimes @timesofindia @IndiaToday @TimesNow @PTI_News pic.twitter.com/N0i3tbrcUf

— Satnam Narang (@satnam) December 27, 2022
TamilBTC could not independently verify the report.